Today I'm wondering if books are still worth anything.  I guess if you walk into Barnes & Noble, it would take about five seconds to conclude that yes, books are still worth something, but that's not really what I'm talking about here.  Yes, books often come with a hefty price tag, but do books have an intrinsic value these days?  People spend so much of their lives in front of screens.  A recent study indicates that the average child spends eight hours a day in front of a screen of some kind, be it a TV, computer, phone or video game.  With so many jobs depending upon the use of a computer, I bet that many adults beat that statistic.  Our lives are electronic, wireless and high-speed.  Do books matter anymore?
I recently read a magazine article that suggested using books to accessorize a shelf or table.  According to the article, this needn't cost much to accomplish; simply visit a flea market or yard sale and look for books that have similar-colored covers and sizes.  I had to re-read this suggestion several times for it to sink in.  Let me get this straight.  First, it implies that most people probably don't have books to adorn the furniture in their homes.  This necessitates the purchase of some books, not for the purpose of reading but merely for aesthetic reasons.  Of course, when you're purchasing these vanity books, it is completely irrelevant what the books are about.  Just search for books to match your décor, stack a few in an artful pose on your coffee table and top it with a drink coaster and, voila!  Your living room is beautified.
I can't even put into words how much this idea horrifies me.  There are many books on display in my home, some on the mantel, some scattered on tables, many on my bookcases.  None of these were purchased for any reason other than the obvious: to read them!  Some of the books are beautifully bound and lovely to behold.  Others are held together by rubber bands and scotch tape.  They are all books that I am proud to own, not because they are display pieces but because they are good literature.  I have read them all.  Owning books that you have never read would be like owning clothes that have never been worn or buying food that you don't intend to eat.  This is a sad, sad situation.
I'm quite sure anyone who has access to a television, computer or even radio is aware of the great media hoopla surrounding the impending nuptials of Prince William and Kate Middleton.  Personally, I am interested in the wedding because I'm interested in the British royal family; nonetheless, I do not intend to stay up all night to watch the broadcast of the ceremony.  For anyone who has at least a mild interest in the affair, you might want to consider reading some books about other members of the royal family.  In my experience, the farther back in history you go, the more fascinating it becomes.  I have read a number of books spanning five centuries about different branches of the British monarchy, and these are, in my opinion, among the best.
1.   The Royals by Kitty Kelley.  This is the quintessential guide to the modern monarchy of England.  If you want to read gossipy details about Queen Elizabeth II and Prince Philip, Prince Charles and Diana, Prince Andrew and Fergie, this is the best place to start.
2.  The Six Wives of Henry VIII by Alison Weir.   Everything written by Alison Weir is compulsively readable.  This book was incredibly hard for me to put down.  When it comes to drama, scandal and oddity, the Windsors don't hold a candle to the Tudors.
3.  The Life of Elizabeth I by Alison Weir.  More factual Tudor adventures and misadventures.  This book gave me a very clear picture of Queen Elizabeth I, one of my all-time favorite historical figures.  She was a fascinating person.
4.  A Brief History of British Kings and Queens by Mike Ashley.  This is a good book to cover a lot of historical territory.  If you want a general picture of the British monarchy, start here.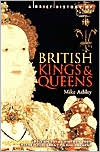 5.  Becoming Victoria by Kate Williams.  Queen Victoria was another powerful, legendary monarch who is greatly misunderstood in modern times.  Her life has been studied in great detail, but her personal mystique is still intact.
Anyone who's been around kids knows that kids love picture books, the bigger and brighter the pictures, the better.  When it comes to books, kids love repetition, and it can become tiring to read and re-read and re-read again the same book.  I think this literary monotony is an important developmental stage for children; it helps them understand that written words are linked to spoken words, and that text relates to the illustrations, and by hearing the stories repeatedly, they memorize the stories which become a part of the child's concept of the world.  My family has many favorite picture books, but it was not difficult to choose five favorite books.  They are favorites because mom and dad like them as much as the kids do.  It is a rare book that manages to keep its freshness and fun even after five hundred readings.  These books are among those gems.
1.   Chicka Chicka Boom Boom by Bill Martin Jr. and John Archambault.  This classic ABC story was Kay's favorite book as a baby.  She learned the alphabet from reading this book with me every night before bed.  The illustrations are simple, brightly-colored, and very energetic.  It is easy to infuse a lot of drama into the reading of this book and really ham it up.
2.  Snowmen at Christmas by Caralyn Buehner and Mark Buehner.  We bring this book out around Thanksgiving and keep reading it until spring.  The illustrations are absolutely gorgeous, the story is cute and engaging, and the rhyming text makes it easy to read and remember.  This story does not shy away from using the word "Christmas" instead of "holiday" and makes a direct reference to the birth of Jesus.  We love this book.
3.  Where the Wild Things Are by Maurice Sendak.  No list of top children's books would be complete without this classic book.  I can remember reading this book as a small child and feeling a unique mixture of fascination, fear, and awe.  It is so much fun to read it to my children and see the same feelings on their faces.
4.  Goodnight Moon by Margaret Wise Brown.  Who would believe that a book comprised of such simplistic drawings and sparse text could be so compelling?  Reading this book before bed is like sipping a mug of hot cocoa with fuzzy slippers on your feet in a comfy armchair.  In other words, this book is like a kid-sized sleeping pill.   I dare any tired parent to read it at bedtime without yawning.
5.  Animalia by Graeme Base.  This lavishly illustrated book is almost too good to read in one sitting.  The pictures are so detailed, vivid and imaginative that it is difficult to turn to the next page.  Each page features a letter of the alphabet with a zany alliterative phrase, such as "Beautiful Blue Butterflies Basking by a Babbling Brook," and it is illustrated with hundreds of objects beginning with that letter.
As a child growing up in a Christian family that observed Easter with as much fanfare as Christmas, I often wondered about Good Friday.  Knowing it is the day Jesus died, it doesn't seem like a particularly "good" day.  It seems like a sad day to contemplate the torturous death of Jesus and the great sacrifice of his death.  Knowing that the wages of sin is death, on Good Friday I try to picture myself on the cross, and I am so grateful for Jesus' willingness to take that burden on himself so that I will never have to suffer such punishment.
As an adult, I've long assumed that the adjective "good" simply applies to the ultimate meaning of the day, which is Jesus' victory over death.  Of course, that victory took place days later, on Easter, so it is still a bit unclear as to why we call the day Good Friday.  Some people have suggested that the term originates with the Old English definition of "good," which meant "holy."  If that is accurate, it certainly makes sense.  Although it was a terrible day, it was a holy day, and "Holy Friday" carries more weight and solemnity than "Good Friday." 
No matter where the day's name comes from, it is a day that means a lot to me and to other followers of Christ.  The sins of all believers being covered by Jesus' death certainly gives us reason to celebrate.  All who believe in him will gain eternal life, and this is made possible by the events of that long-ago Good Friday.  This Easter, my children and I will be discussing in detail the events of Good Friday and Easter Sunday by baking Resurrection Cookies.  If you Google "resurrection cookies," you will find this wonderful recipe which tells a part of Jesus' story with each step of the baking.
Good Friday to all, and Happy Easter.
What exactly makes the old children's stories so timeless and appealing?  If I asked my child to choose between a shiny paperback Disney edition of a classic fairy tale and a sedate, plain-covered, nearly picture-free edition of Grimm's Fairy Tales, she would choose the Disney version hands-down.  But I have discovered something new about the old editions of fairy tales, fables, nursery rhymes and poems.  The quality of the storytelling is markedly different, and even my five year old can tell the difference!
Case in point:  I am the inheritor of a number of pristine vintage primers published for Kansas schools in the 1920s.  On the surface, the books are very unassuming and not appealing; they are covered in brown cloth with the titles such as The Winston Readers: The Primer: State of Kansas emblazoned across the front.  This week, in desperation for reading material, I pulled out my stash of these books, which have been tucked beneath my bed for about a year.  Kay wasn't interested, but I started reading anyway.  By the time we were two pages in, she was hooked.  Even Elle, who at three years doesn't usually pay much attention to oral reading, was drawn in.  Together, we covered more than 35 pages in one sitting, reading classics such as "The Little Red Hen," "The Gingerbread Boy," and "Henny Penny," which contained a few simple, four-color illustrations each.  As we finished each story, Kay immediately begged, "Read another one!"  We read until we had to stop for time's sake, and that night before bed, we picked up the book and read another twenty pages.  Kay pleaded for me to re-read several of the stories, and we discussed them repeatedly over the following days.
Compare this incident with our recent attempts to use Disney-published "readers" in our work with phonics.  Of course, the readers are ill-suited for students of phonetic reading, with inappropriate word choices that require a lot of assistance from the teacher.  Beyond this difficulty, we discovered that even though these books have a lot of surface appeal, we (and I do mean both parent and child) found the stories to be shallow and boring.  After three days struggling to complete a 20-some page level 2 reader based on the Pixar movie Cars, we finally gave up.  The language wasn't insurmountable, but the dullness of the story certainly was.
I am inspired to put away our ultra-brilliant Disney paperbacks and dig out the Brothers Grimm.  Obviously, the familiarity of Disney and the cartoony illustrations aren't necessary to interest the children.  In the original tellings of the stories, not only are the plots more complete with original morals intact, but also the language is simple and elegant.  Reading them aloud is a pleasure, and I feel like I'm taking my children back to a safer, less complicated time.
People who like to sell used books tend to be money-savvy kind of people; in other words, my kind of people.  Saving money is at the top of everyone's priority list right now, especially as we see gasoline prices up high and predicted to go higher.  If you're like me, you're interested in saving money at the grocery store with coupons but not sure how to make coupons really work for you.  Here are some practical tips for getting started on your coupon savings project.
Make a list of all potential stores that carry products you purchase, including grocery stores, convenience stores, drugstores, and discount stores.  Don't write off a store because you think it's overpriced.  Even pricey stores can offer coupons and promotions that make it worth an extra trip to pick up the discounted merchandise.
Get the stores' club cards.  It is worth your time to sign up for loyalty or club cards that are required to receive the lowest prices for items.  Often, using the club card will qualify you for special coupons on future purchases that can really add up; these coupons often apply to merchandise that you regularly buy.
Investigate your stores' coupon policies.  All stores have difference practices about accepting manufacturer's coupons and doubling coupons.
Check out the store's current ad.  Many stores circulate weekly or monthly fliers that highlight the current promotions.  You might find that a drug store or discount store is offering a much better deal than your regular store on a product you regularly use, such as toothpaste or deodorant.  Be sure to really check out the price of the items listed in the flier; not every item listed features a discounted price.
Stockpile merchandise.  When you find a great deal on an item you regularly use, buy as many as you can (taking into consideration things like expiration dates, of course).  That way, you won't need to buy anymore of the item until it goes back on sale or another great coupon comes along.
Maximize coupons by using them on sale items.  You can use coupons on an item that is on sale.  This will yield big savings.
Good luck with your couponing endeavors!
When you have used books to sell, you want top dollar for your merchandise.  Have you ever tried to sell used books to one of those bookstores that buys your books?  If you have, I'll bet you were disappointed at their offer.  Fifty cents for a book that originally cost $12.50?  Really?
BookJingle offers fair prices for used books.  Selling used books to BookJingle makes sense because the shipping is free, so you're not losing any of your money there.  BookJingle wants to give you a good deal for your book; if you happen to find another online bookbuyer who is offering more for your book, let BookJingle know.  If possible, they will beat the price. 
Another huge advantage to BookJingle: the BookJingle database is very large, which means there's a good chance that BookJingle is buying a book that you have right now.  Purchasers of used books can be limited in what titles they accept, but BookJingle will even consider books that are out of circulation.  If you are looking for a textbook buyback program, definitely give BookJingle a try.  Instead of hauling those heavy textbooks to a bookstore, ship them for free to BookJingle.
Of course, when you're trying to sell books online, you probably need your cash quickly.  BookJingle prides itself on fast turn-around time for your payment.  Within three days of receiving your books, BookJingle will issue payment in the method of your choice, check or PayPal.  You'll have the money you need, the best price for your books, and you'll have it fast.  Get cash for books and get it quick at BookJingle.
In homeschooling circles, much discussion revolves around the idea of classical education.  For anyone who's ever wondered what that means, and whether it really makes sense, here is a brief description of the contemporary definition of a classical education.
The entire classical education movement is based on the ideas of author Dorothy Sayers, who criticized educational efforts as having lost the "tools of learning."  These tools are memorization, organization, and expression.  Adherents to classical education typically assign these three tools to students based on grade level; this classical three-part pattern is known as the trivium.  Children in grades 1-4, or the "grammar stage," focus on memorization of facts.  These are the years in which the building blocks for all future learning are laid down; young children are believed to be receptive to information and eager to memorize data.  Grades 5-8 are called the "logic stage," characterized by the maturing child's interest in cause and effect.  At this age, students are less interested in accumulating facts and begin to delve into the relationships between different areas of study; the capacity for abstract thought is the key to this stage.  The high school years are known as the "rhetoric stage," which is characterized by expression of thought.  Students focus on learning to write and speak effectively, using the facts and logic learned previously to help them form original, persuasive thoughts and opinions and the ability to express them elegantly.
Another component of the classical education system is the division of subject matter into three repetitions of a four-year pattern.  The pattern is world history divided into four parts:  the ancients (5000 B.C. – A.D. 400), the medieval period through the early Renaissance (400 – 1600), the late Renaissance through early modern times (1600 – 1850), and modern times (1850 – present).  During each of the three stages, grammar, logic and rhetoric, the students cover these four periods one at a time.  The first grader studies the ancients in regards all subjects:   history, literature, science (biology, classification, the human body – all subjects understood by the ancients), art, music, etc.  Everything the student studies is connected to ancient history; therefore, all of the student's work is logically organized and the basic concepts are reinforced in all the work produced.  The second grader studies the medieval period through the early Renaissance.  The third grader studies the late Renaissance through early modern times, and the fourth grader studies modern times.  Then, beginning in the fifth grade, the student goes back to the beginning and studies the ancients again, only this time in greater depth, using more advanced texts and some original sources.  After all four sections have been covered in the fifth through the eighth grades, the student begins the cycle one more time.  The ninth grader studies the ancients again, this time in a fully mature manner, using original sources and materials.  Likewise, the other three historical divisions are covered during the remaining high school years.
For all the proponents of classical education in the homeschooling world, there are certainly as many naysayers, including the driving forces behind American public education.  Perhaps the most influential book on the subject is The Well-Trained Mind: A Guide to Classical Education at Home by Susan Wise Bauer and Jessie Wise.  For more information, visit www.welltrainedmind.com.
Listeners of K-LOVE, the Christian radio station that changes lives on a daily basis, already know that the K-LOVE Spring Pledge Drive is in full swing right now.  You might be interested to know that BookJingle is a K-LOVE Business Team Member, which means that BookJingle supports K-LOVE through financial contributions.
For those who aren't familiar with K-LOVE, it is a radio ministry broadcast across the United States and in many other countries around the world.  K-LOVE is 100% listener-supported, which means all of the funds necessary to operate the radio station come from donations from its listeners.  K-LOVE is a gem among radio stations, a rare station that is completely family-friendly and clean, with no bad language, suggestive or violent-themed music.  All of K-LOVE's music brings glory to Jesus Christ, and the mission of K-LOVE is, in the station's own words, "To effectively communicate the Gospel message to those who don't know or fully understand it, through full-time contemporary Christian music and short educational elements over radio and the Internet-using modern day language and the highest professional standards."
K-LOVE's ministry touches countless people every day.  Over 1,000 people contact K-LOVE every day to request prayer, which is delivered four times a day by K-LOVE pastors and staff who pray over each individual request.  An average of 20 people find hope in Christ each day through listening to K-LOVE.  Strikingly, an average of one person per day who is contemplating suicide contacts K-LOVE.  This outreach has a tremendous impact on listeners from every walk of life.
I listen to K-LOVE because I love the music, the talk, and the news.  Everything aired on K-LOVE makes my day a little better and helps me to focus on serving the Lord.  I stay in touch with what's going on in the world, but none of the news is upsetting to my children.  My three year-old can sing the most popular K-LOVE songs by heart.  The morning show always give me a laugh.  I feel as if I know all of the deejays personally, and they are all genuinely nice people.
"Positive, encouraging K-LOVE" – that's the K-LOVE slogan.  Find out more about K-LOVE at www.klove.com.
 Have you ever seen the exact moment a chrysalis opened and butterfly emerged?  How about the first time a baby robin jumped out of the nest, flapped its wings and flew?  Have you ever held out your arms towards a baby taking his very first steps?  These moments of transition are so fantastic, they are almost magical.  One moment you are seeing one thing, and the very next moment, it has changed forever.  When you think about it, life is filled with these moments, so much so that we often don't see them.  Particularly when it comes to children, they are transforming on a continual basis; because we miss those tiny transformations, we stand back and marvel at their comprehensive growth.  A parent looks at a gangly beansprout of a teenage son and wonders what happened to the baby boy he once was.  This new creature bears little resemblance to how he began in life, but this metamorphosis is really a compilation of all these little, tiny changes, mini-shifts in development that we so often miss.  One day you are holding a squirming toddler and trying to wrestle socks onto her feet, and the next thing you know, you see your child coming out of her room fully dressed, socks and all, and you didn't even have to lay out her clothes.
Learning to read is one of these processes, a series of tiny achievements that combine into the great achievement of literacy.  I'm thinking about these things every day now because I am anticipating the magical moment with my daughter, Kay.  She can read most words, nearly any word.  Some words are part of her vocabulary and take little effort to read, but most of them take a concerted effort on her part to decipher.  Reading is like a code that she is mastering, but at this point, it is still work.  And I wonder, when you are learning to read, exactly how long does it take?  How long before reading is second nature, when she will see a word and know it on sight?  When I look at an apple, my brain instantly says, "apple," and when I look at the printed word, "apple," I have the same reaction time.  I know the word "apple" and would be unlikely to mistake it for a similar word such as "apply" or "ape."  Right now, Kay is walking the line between two worlds, the world where reading is a code and requires knowledge, time and effort to decipher, and the world where reading is like walking and talking.  I am fascinated by the process, and I wonder how she will make the jump.  Will it seem to happen all at once, or will each step be as painstaking as the ones that have come before?  One day I will look up, and she will be like that robin chick soaring across my yard.  Will I see the moment when she leaps from the nest, or will I stand dumbfounded as I realize that I missed it?